---
MFJ Antenna Analyzer Operation Guides
---
MFJ Setup and Operating Guides
Nifty Guides for the MFJ Analyzers
Simplified Operating Instructions and Explanations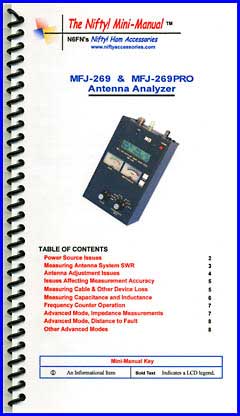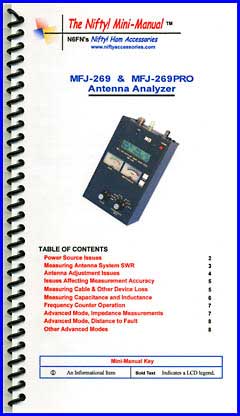 Mini-Manual
The Finest MFJ Operating Guides Available
Operating modes clearly explained
Antenna Adjustment Hints and Issues
SWR Measurement Accuracy Issues
Measuring Cable Losses
Distance to Fault
Measure Capacitance and Inductance
Frequency Counter Operation
Preventing instrument damage
Battery & External Power Supply operation
Advanced Mode operations
Short Form Manual, Fast and Easy to use.
Simplified operating instructions for quick and efficient analyzer operation.
Eight pages, Laminated & Bound for durability.
Compact: Small and rugged enough to be kept with the analyzer -- so its always there as a quick reference when you need it.
---
High Quality & Durable
Comes as a 8 page spiral bound manual
At 4.5 x 8 inches, its about the same size as the analyzer.
With the same footprint, its easily kept in the analyzer's case
Ideal for use while operating home QTH, Field Day or portable
Laminated for improved Durability and Water Resistance
High quality color printing for greater clarity
Organized to find what you need fast
Never again be without a ready reference when its needed.
An invaluable aid for quickly recalling how to use your analyzer!
Ideal Short Form Guide for Portable and Home QTH operations.
---