---
Kenwood Operating Guides
---
Kenwood Setup and Operating Guides

Keep-it-with-you Radio Setup Helpers for HT's & Mobiles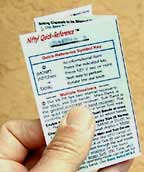 Tri-folded Wallet Card for HT's
Abbreviated Operating and Set-up Guides
Condensed Set-up and Operating Instructions
Simplified radio programming procedures
Pocket guide packed with useful operations
Color-coded, clear and easy to read instructions
HT Reference Cards fit in your wallet or radio pouch
Nifty Cards are professional quality instruction sheets
Faster and Easier than the factory Instruction Manual
!! Excellent Memory Joggers !!
Laminated for Durability & Water Resistance
High quality printing on both sides
Mobile Cards fit in a map pocket or glove box
More comprehensive than key description data charts
Lets you program your radio wherever you are
An essential Kenwood radio operating accessory
Map Size Card for basic Mobile Rigs
---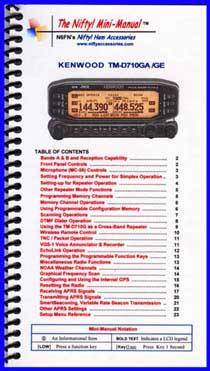 Mini-Manual
Nifty! Mini-Manuals are short-form guides providing Complete Radio Setup Instructions
Provides Step-by-Step Instructions, augmented with Hints and Explanations.
Includes reference information for all controls and Setup Menus.
Indexed and organized for Quick Access to what you need to do by mode of operation.
Explicit and easy to follow short-form instructions.
Just follow the numbered steps to setup your radio, or to program repeaters and other frequencies into memory.
Nifty Radio Setup Guides are Smaller, Faster and Easier to use than a normal manual.
Includes useful hints not found in the user manual.
Laminated and bound for durability.
Compact- 4.5 x 8 inches, fits in a map pocket , small enough to be kept with the radio.
Indispensable operating accessory for your radio.
---
Radio not listed? Check our Discontinued products page for guides that are out of production but still available for purchase.