---
Elecraft Operating Guides
---
Elecraft Setup and Operating Guides

KX2, K3, K3S, P3, KX3, and PX3 Reference Guides
Nifty! Mini-Manuals provide Complete Radio Set-up and Operating Instructions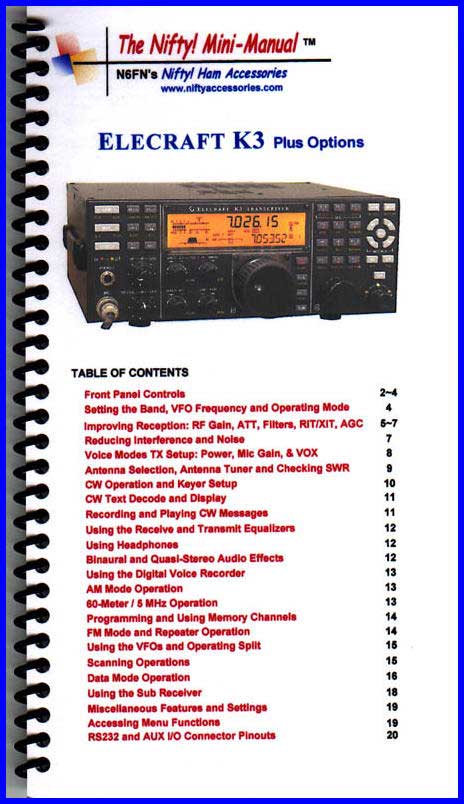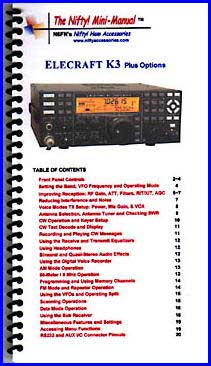 Mini-Manual
Nifty! Mini-Manuals are short-form guides providing Complete Radio Setup Instructions
Detailed setup and operating instructions for all modes of operation.
The KX2, K3 and KX3 do a lot, and our Mini-manuals for these radios cover all of it.
Includes operating information for all Knobs, Buttons Setup Menus and optional features.
Indexed for Quick Access
Explicit and easy to follow instructions.
Fast and Easy to use.
The KX2, K3, P3 and KX3 Mini-manuals provide useful hints and annotations that clarify operations.
Compact, small and rugged enough to be kept with the radio, at the home QTH or when operating portable -- so its always there when you need it
Indispensable operating aids for the K3, KX2 and KX3 transceivers.
---
The Finest K3, P3, KX2 and KX3 Operating References Available
Fully laminated for durability.
At a compact 4.5 x 8 inches, they are conveniently sized to keep with the radio.
Ideal for mobile and portable operation
High quality color printing for greater clarity.
Organized to find and setup what you need fast.
Never again be without a ready reference when operating your transceiver.
Ideal for Mobile, Portable and Home QTH operations.
---