---
Icom IC-9700 Mini-Manual
---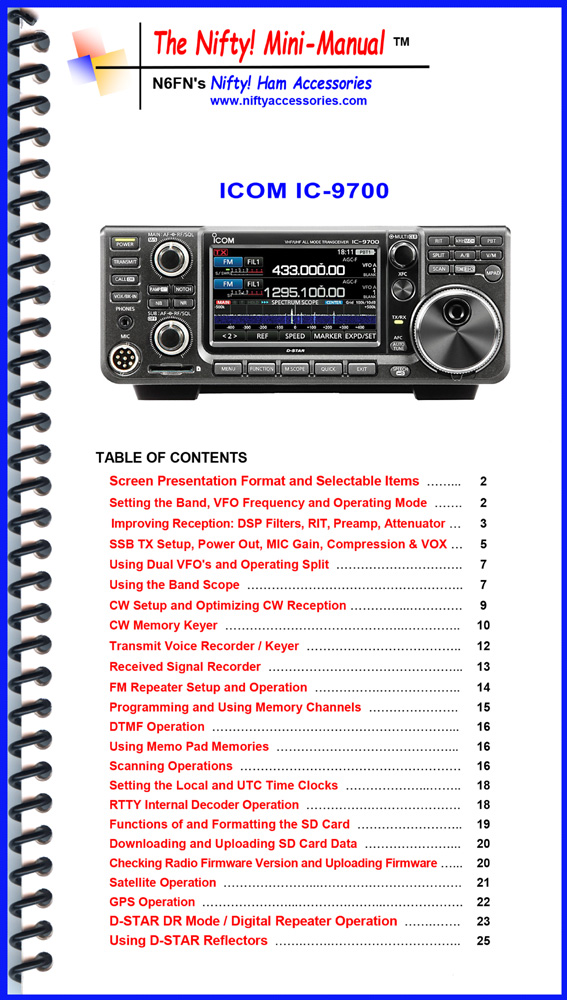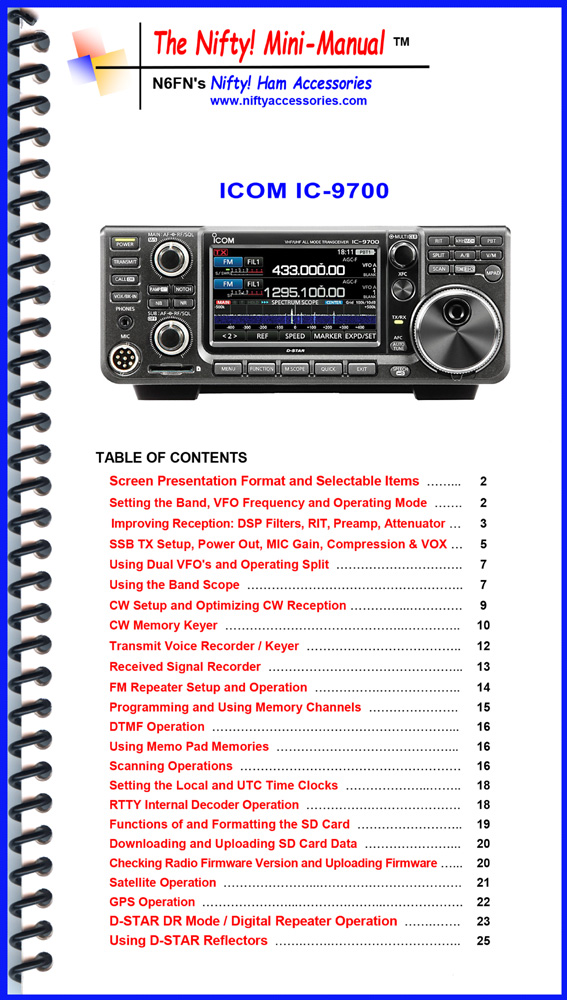 Product Description
Compact IC-9700 Mini-Manual. Comprehensive operating guide for the IC-9700. Size, 4.5x8 inches. Twenty-six high-quality laminated pages, loaded with detailed instructions. Ideal for setting-up and operating this innovative RF direct sampling transceiver. Instructions for setting up DSP filtering and RX and TX signal processing for great sounding audio; using the waterfall and audio scope functions, satellite operations, DSTAR, RTTY, Received and Transmitted voice recorder, as well as the other menus and modes of operation.
Nifty! Ham Radio Mini-Manual
Provides clear descriptions for all controls, setup menus and modes of operation.
Simple step-by-step instructions, augmented with useful hints and explanations.
Indexed and organized for quick access to what you need by mode of operation.
Color-coded, clear and easy to understand instructions that clarify operation.
Smaller, faster and easier to use than the factory instruction manual.
Laminated for durability and water resistance, great for GoKits.
Compact: 4.5 x 8 inches, fits in a map pocket, small enough to be kept with the radio.
Program your ham radio wherever you are at. An essential operating accessory!
Product Details
Part Number: MM-IC9700
Size: 4.5x8 inches
Pages: Twenty-six, high-quality laminated
Purchase
15 IN STOCK. Usually ships in 1 - 2 business days. Press the Add to Cart button below to purchase.
MM-IC9700 Price:
$

24.95
---
Ordering Information
Nifty Accessories is temporarily closed until August 12th. Products can still be purchased as noted below.
Any product with an "Add to cart" button and "IN STOCK" may be purchased and shipped during the temporary closure. The warehouse is still shipping to US addresses only.
No shipping from Nifty to International locations during the closure.
Products may be purchased from our distributors.
Products may be purchased from Amazon.
No support is available during the closure.
Thank you for your patience and understanding!
---
Related Products