---
Icom ID-5100 Desk Stand
---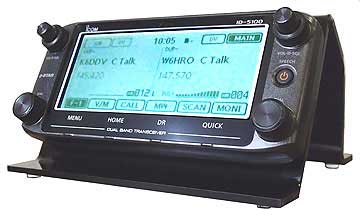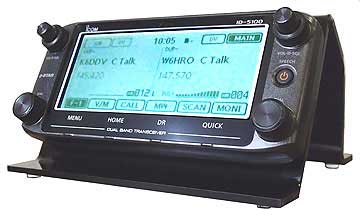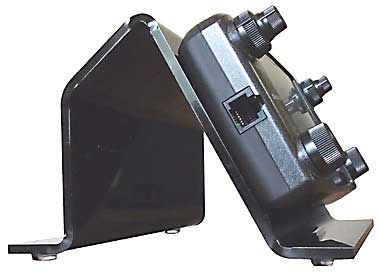 Product Description
Heavy Duty Icom ID-5100 Desk Stand. Custom designed to perfectly fit the Icom ID-5100, providing an ideal angle for viewing the display, and stable support for touching buttons on the screen and working the controls.
The ID-5100 securely attaches to the stand using two thumbscrews for the mounting holes at the back of the control head. An additional four rubber feet are provided for use with the main body of the radio allowing it to also be placed on the desk top.
Made of Heavy Duty Acrylic.
Beautiful Gloss Black Finish.
Designed to Perfectly fit the ID-5100.
Eliminates using suction cups or adhesive.
Provides a Comfortable Viewing Angle and stable support when pressing the screen or controls.
The stand is 3.75 inches high, by 4.5 inches deep and 7 inches wide and rests on four anti-skid rubber feet.
Control head securely fastens to the stand using the two supplied thumbscrews.
Four extra rubber feet are supplied for use on the radio body, allowing it to rest on a desk top.
Radio not included.
Product Details
Part Number: DS-ID-5100
Size: 3.75 high x 4.5 deep x 7 wide inches
Purchase
10 IN STOCK. Usually ships in 1 - 2 business days. Press the Add to Cart button below to purchase.
DS-ID-5100 Price:
$

28.95
---
Ordering Information
Nifty Accessories is temporarily closed until August 12th. Products can still be purchased as noted below.
Any product with an "Add to cart" button and "IN STOCK" may be purchased and shipped during the temporary closure. The warehouse is still shipping to US addresses only.
No shipping from Nifty to International locations during the closure.
Products may be purchased from our distributors.
Products may be purchased from Amazon.
No support is available during the closure.
Thank you for your patience and understanding!
---
Related Products