---
LDG Autotuner Operating Guides
---
LDG Setup and Operating Guides
Nifty Quick Reference Guides for LDG Tuners
Simplified Operating Instructions and Explanations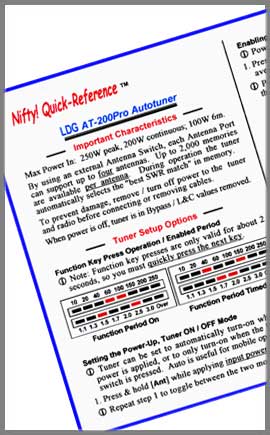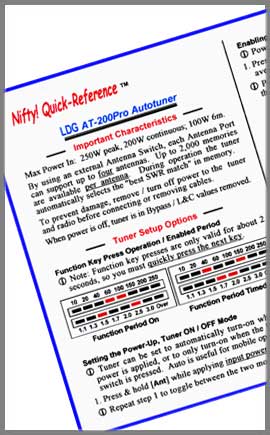 Reference Guide
The Finest LDG Reference Guides Available
Operating modes simply explained
LED Display Patterns illustrated and described
Initial Tuner Setup Operations
Wattmeter Scale & Average / Peak settings
Enabling Tuner Bypass mode
Setting Auto-tune Mode & Threshold
Manually Adjusting the Antenna Match
Adjusting Hi / Lo Z and L&C Settings
Reading the current L&C Settings
Status Query current settings
Short Form Guide, Fast and Easy to use
Designed for simple and efficient operation
Laminated for durability
Compact: Small and rugged enough to be kept with the tuner -- so its always there as a quick reference when you need it.
---
High Quality & Durable
A user friendly guide, organized for easy operation
Ideal for use while operating home QTH, Field Day or portable
Straight forward explanation of all LED patterns
Laminated for improved Durability and Water Resistance
LED display patterns identified
High quality color printing for greater clarity
Laminated Card, 4 x 8.25 inches
Never again be without a ready reference when its needed.
An invaluable aid for operating your LDG Tuner!

---