---
Wouxun Operating Guides
---
Wouxun Setup and Operating Guides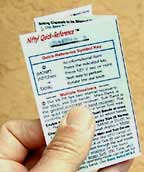 Tri-folded Wallet Card for HT's
Abbreviated Operating and Set-up Guides
Condensed Set-up and Operating Instructions
Simplified radio programming procedures
Pocket guide packed with useful operations
Color-coded, clear and easy to read instructions
HT Reference Cards fit in your wallet or radio pouch
Nifty Cards are professional quality instruction sheets
Faster and Easier than the factory Instruction Manual
---
The Finest most Compact WOUXUN Reference Guides Available
Concisely documents the procedures for programming and operating your radio: setting simplex and repeater frequencies and modes into the VFOs, Single and DUAL VFO receive operation, Storing setups to memory, monitoring repeaters, scanning, DTMF operations, FM broadcast reception and more.

Handy quick reference card for easily setting-up and operating your radio. This compact pocket guide provides coverage for using the Wouxun's features, yet is small and rugged enough to be kept with you -- it comes tri-folded into a compact 2.2 x 3.6 inches-- so its there when you need it.

Never again be without a ready reference when operating your Wouxun.


---